LA County firefighters injured in fall through burning roof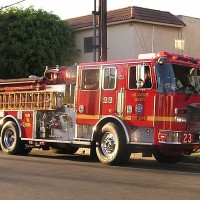 Today's incident regards a work related accident suffered by four LA County firefighters.  Apparently, the firefighters were dispatched to the Club Caribe Casino.  While fighting the fire the roof underneath them collapsed.  All the fire fighters suffered injuries including bruises, and a firefighter was burned.
It is interesting to note that certain public employees, when they get hurt, have extra benefits that are not otherwise afforded to nonpublic safety employees.  For example, public safety employees will have a presumption of cancer being industrially related.  Considering the type of work that these firefighters do, an injured worker would appreciate that there are presumption of injury statutes set up for them.  Think about these firefighters- who knows what kind of toxic chemicals they could be exposed to anytime they walk into or around a burning building.  These people truly are heroes who deserve our support and the presumption that the law gives them regarding injuries that they suffer on the job.