How a TRO Becomes a PRO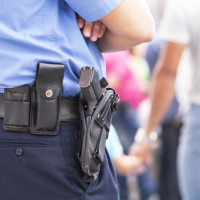 It does not take much to get a temporary restraining order (TRO) against someone under California's Domestic Violence Prevention Act. Under California law, domestic violence is more than just actual physical abuse and can include a perceived threat, stalking or other harassing behavior directed against a current or former spouse, boyfriend/girlfriend, roommate, or certain family members.
A TRO can be obtained without giving any notice to the other party. A TRO can not only order a person not to have contact with another person; it can order a person to move out of the house, it can award custody of the children and even the family pet to the other person, and it can require the person to give up possession of any firearms.
However, a TRO only lasts for 21 days before a hearing is held in court on whether to make the protective order permanent or not. After the hearing, the TRO will either be canceled, or it may be converted to a permanent restraining order (PRO). A PRO can be put in place for up to five years, at which time the PRO expires, or it can be renewed for another five years or put in place on a truly permanent basis.
Different Standards for TROs and PROs
In a criminal prosecution, the case against the defendant must be proven beyond a reasonable doubt in order to convict. In order to obtain a TRO, however, the applicant only needs to prove the allegations by a preponderance of the evidence. This is a very low standard, meaning basically that the allegation is more likely true than not true. Sometimes the applicant is not even required to meet this low standard, but merely must prove his or her allegations "to the satisfaction of the court."
The standard is slightly higher to obtain a PRO, where the applicant must prove the allegations by "clear and convincing" evidence. While this standard is higher than preponderance of the evidence, it is still well below the reasonable doubt standard of a criminal case.
In a hearing on a PRO, the subject of the order has the right to appear and challenge the order. While technically it is the job of the applicant to prove the allegations, with such a low standard it is really up to the other party to disprove the allegations. Of course, proving that something does not exist can be much harder than proving that something does exist, and unless there are witnesses, video or other evidence to use in defense, it can be very hard to defend against an allegation of domestic violence.
Seek Experienced Legal Representation in a Domestic Violence Matter
Attorneys at the Law Offices of Sef Krell provide defense in criminal domestic violence and abuse cases in Los Angeles and throughout Southern California. If you are facing domestic violence charges and need strong, effective legal assistance, contact the Law Offices of Sef Krell in Encino for a free initial consultation.